Could OneGreatFamily Be a Good Place to Plant Your Family Tree?
OneGreatFamily boasts that it has the world's largest online family tree, containing 110 million individuals. (Actually it's supposedly 250,228,087 as of June 2020.)
Well, that claim is patently untrue; AncestryDNA has 13 billion individuals in its database.
What OneGreatFamily also claims to have going for it is this: once the company finds one of your relatives within the many family trees it has already compiled for other customers, it will automatically merge all those relatives onto your tree.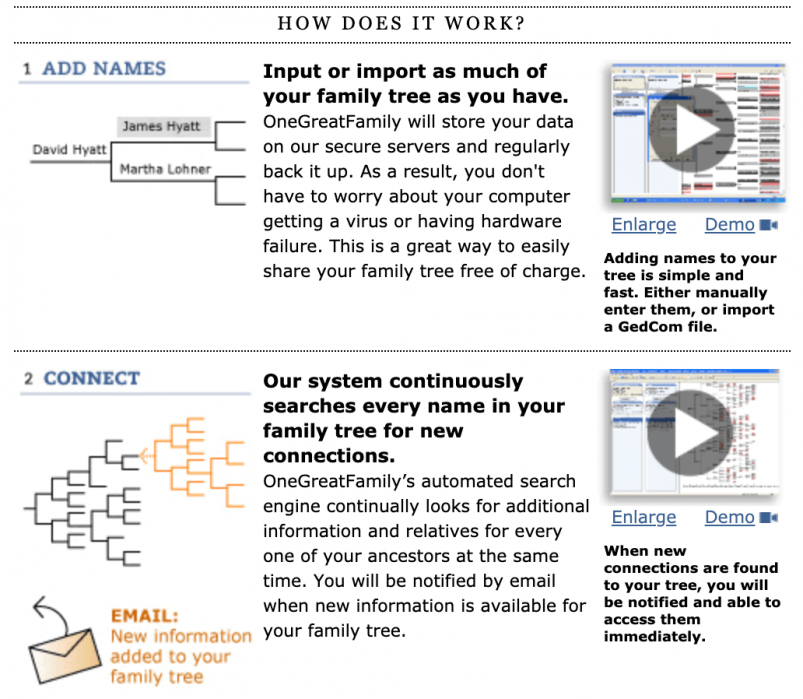 As someone who has tried other family tree builders from companies such as MyHeritage and AncestryDNA, I've often felt like I must be reinventing the wheel when I'm adding one new relative at a time. Surely someone else has already worked out huge sections of my family tree for me?
So this idea of adding a whole bunch of new relatives at once, very quickly, is highly appealing.
Also, OneGreatFamily is a lot less expensive than MyHeritage or AncestryDNA. That's appealing too.
Does OneGreatFamily live up to its potential? In my opinion, no. However, I'll share my experiences and let you draw your own conclusions.
Family Tree Builder Software
(And Here, I'm Using the Term "Software" Loosely)
I had some serious misgivings the minute I saw OneGreatFamily's website.
The site isn't secure until you create an account and log in. That alone gave me pause, and made me wonder how safe it might be to enter any personal information.
The design is very 1990s. It doesn't inspire confidence that this is a trustworthy company.
The design isn't responsive either, i.e., it doesn't reorganize its content depending on what size screen you have.
So if you view it on your phone, it's just a teensy version of what you'd see on a desktop.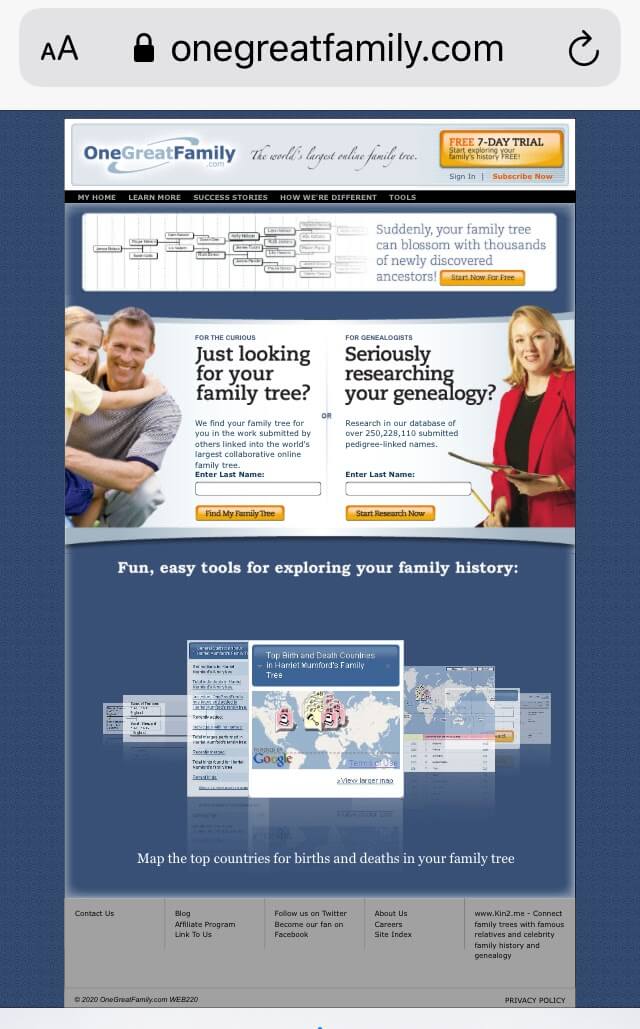 Try reading that image on your phone. I can't remember the last time I saw a site with a non-responsive design. OneGreatFamily desperately needs OneGreatWebDesigner!
The other thing worth noting here is that when you're building a large family tree on OneGreatFamily's website, you can't view the whole tree at once. You can only see about three generations at a time.
To view your family tree in more flexible ways, including seeing the entire tree at once, you need to download and install the company's Genealogy Browser™ software. However, it's "currently only available on Microsoft Windows™".

Since I have a Mac, not a PC, I can't comment on how well the Genealogy Browser works. But here are the system requirements:
Windows XP/Vista/2000/2003 operating system
Internet Explorer, Mozilla Firefox, or Netscape web browser
300 MHz processor
128 MB of RAM
An internet connection speed of at least 56Kbps
2 MB of hard drive space
I am rolling on the floor laughing at this point. Windows XP/Vista/2000/2003? A 56 Kbps Internet connection? Netscape? What year is this? (News flash: Netscape effectively hasn't been around since 2011.)
Oh yeah, here's another cute thing: There are demonstration videos on the website. But you can't watch them because they're built using Adobe Flash, which is no longer supported by current web browsers.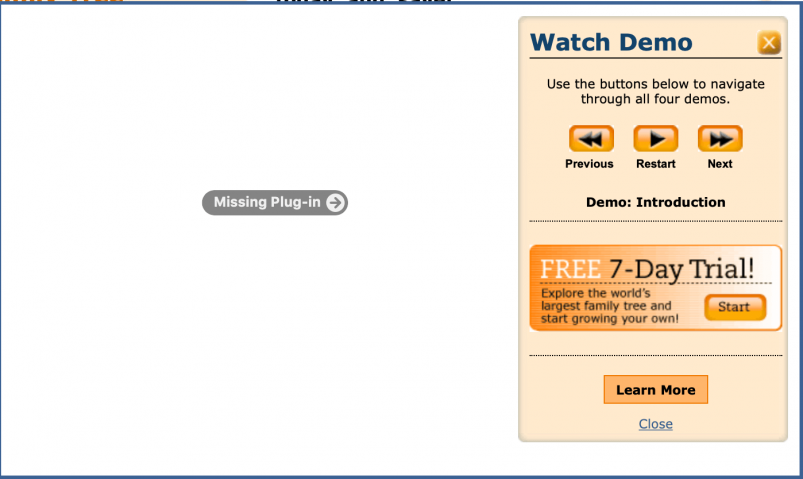 In short, this company hasn't updated its website in many, many years. That's a colossal red flag. If OneGreatFamily really cared about staying competitive and taking care of its customers, it would never have let its website become so obsolete.
5 Standout Features of the OneGreatFamily Family Tree Builder
Build out your family tree based on just one relative
If one of your known relatives already appears in the family tree of another OneGreatFamily member, then you can scoop up all of the relatives that are on that tree, pretty much instantly. You don't have to search for them one by one, like you do on AncestryDNA or MyHeritage.
Free one-week trial
You can subscribe to OneGreatFamily free for a week and find out how well it works.
Low monthly cost
A subscription to OneGreatFamily costs less than $15 if you pay month-to-month, or about $6 a month if you buy a whole year (for a total of just under $80). For comparison, a MyHeritage subscription starts at a bit more than $125 a year, and an AncestryDNA subscription starts at just under $200. So OneGreatFamily is definitely a bargain in comparison.
Entertainment value
If you appreciate antiques, you'll find the OneGreatFamily website very entertaining! There are signs of obsolescence everywhere you look. I laughed out loud several times. Really.
That's all I've got
I literally can't think of one more positive thing to say about OneGreatFamily or its Family Tree Builder.
Good for Some Laughs. Not Much Else.
To give OneGreatFamily a try, I set up an account, subscribed to a free trial, and tried searching the site for one of the major surnames in my family: van Swieten. And trust me, there are a lot of van Swietens! European history is absolutely crawling with them.
A van Swieten delivered all of Holy Roman Empress Maria Theresa's children. A van Swieten hobnobbed with Ludwig van Beethoven. Van Swietens were bigwigs in the Dutch navy. And that's just the ones in the history books. There are van Swietens living on most continents today.
The upshot?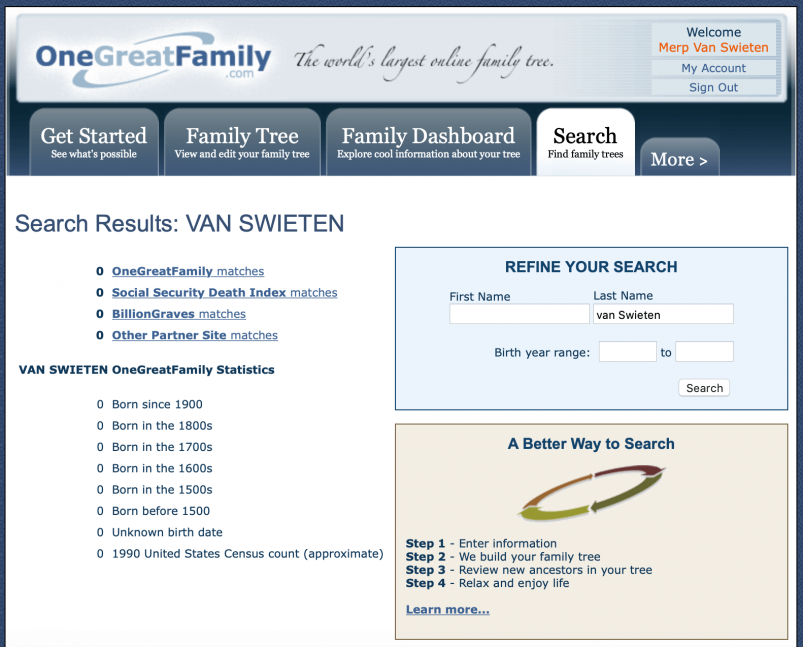 Zero. Zip. Nada. There are literally no van Swietens among the 250,228,087 individuals that OneGreatFamily has in its database (as of June 2020). How is that even possible?
Just to see whether any of my known ancestors might ring some bells over at OneGreatFamily, I started entering their names and birth/death dates. I got this far…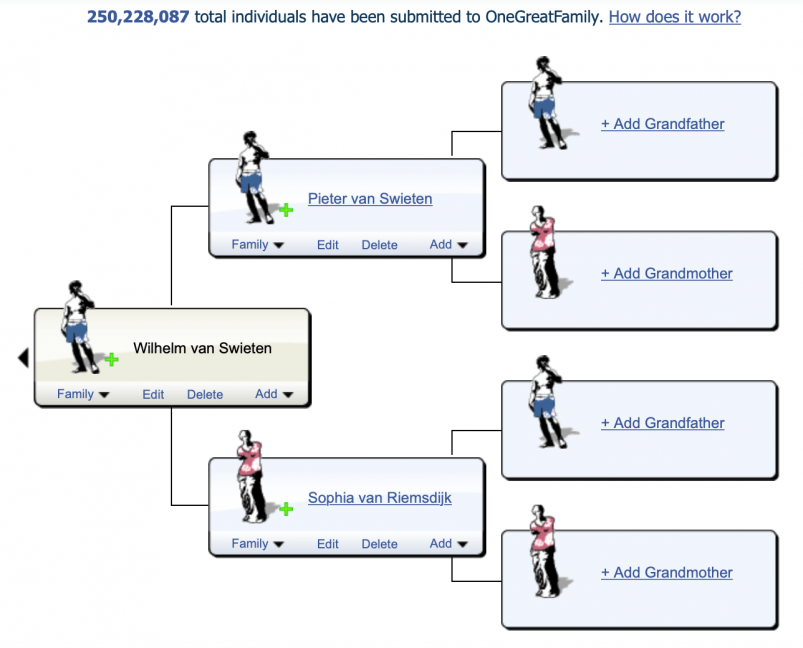 However, when I tried inputting Pieter van Swieten's father Johannes, this happened: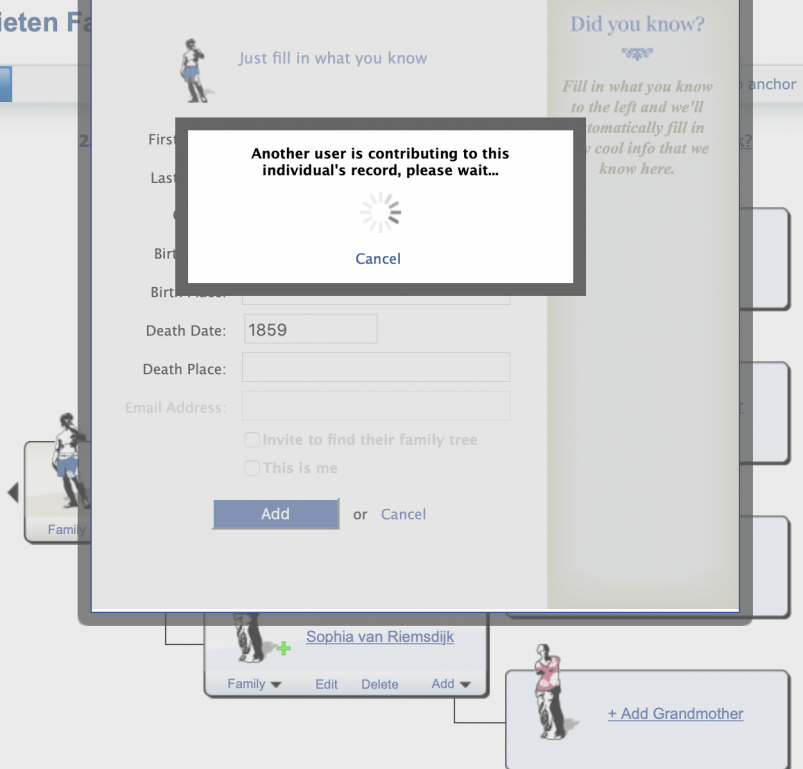 "Another user is contributing to this individual's record, please wait…" So I waited while the wheel spun. And waited. And waited.
Then I reloaded the page and tried again. The same thing happened every time.
I also tried adding in Pieter's mother, Louise Brodier. The same thing happened with her, too.
I tried adding Johannes on a different web browser. The same thing happened. I was literally unable to add any more relatives to my tree.
Was it remotely possible that another user was "contributing to these individuals' records"? No, because as we've already seen, there are no van Swietens in OneGreatFamily's database.
I tried again a half hour later, and this time I was able to add good ol' Johannes. Nevertheless, clearly OneGreatFamily's website is as buggy as heck.
Anyway, I've now entered multiple generations of van Swietens as well as their wives. The next step? OneGreatFamily will supposedly email me if it finds anyone matching these people in its database.
Which I already know won't happen, because I already know OneGreatFamily doesn't know any van Swietens.
OneGreatFamily may work for some people. But for me, it has been absolutely useless.
Between the company's primitive, outdated user interface and the fact that OneGreatFamily doesn't have any of my family members in its records, this is the most pathetic family tree builder I've ever seen.
But it gets worse.
Watch Out for That "Free Trial"!
OneGreatFamily is extremely affordable. A subscription costs just under 14,95 US$ and there are quarterly and annual plans.
By comparison, MyHeritage starts at a little over 0,00 US$, and Ancestry.com starts at around 100,00 US$. So you'd definitely save money by choosing OneGreatFamily.
But that's assuming the service actually works. In my experience, it does not.
What's worse, the company promises you a one-week free trial…takes your credit card information when you create an account (nominally, so they can bill you after your free trial is over)…and then bills you right away.
And it bills you for an annual subscription, even if you selected a monthly subscription.
Can you believe these people?
I was able to get a refund, but it was harder than it should have been – see Support below.
OneGreatFamily accepts Visa, MasterCard, Discover, and American Express.
Apparently OneGreatFamily Still Has at Least One Employee
As I explained above, OneGreatFamily charges your credit card immediately for a full annual subscription when you start your "free trial." When you discover this, and go to the company's website, it's not at all clear how to cancel your subscription.
But I did some digging and figured it out. The answer is, you have to go to the Contact Us page and send customer service a message – with "Contact Me about Subscription Cancellation" as the Reason for Contact. So I did.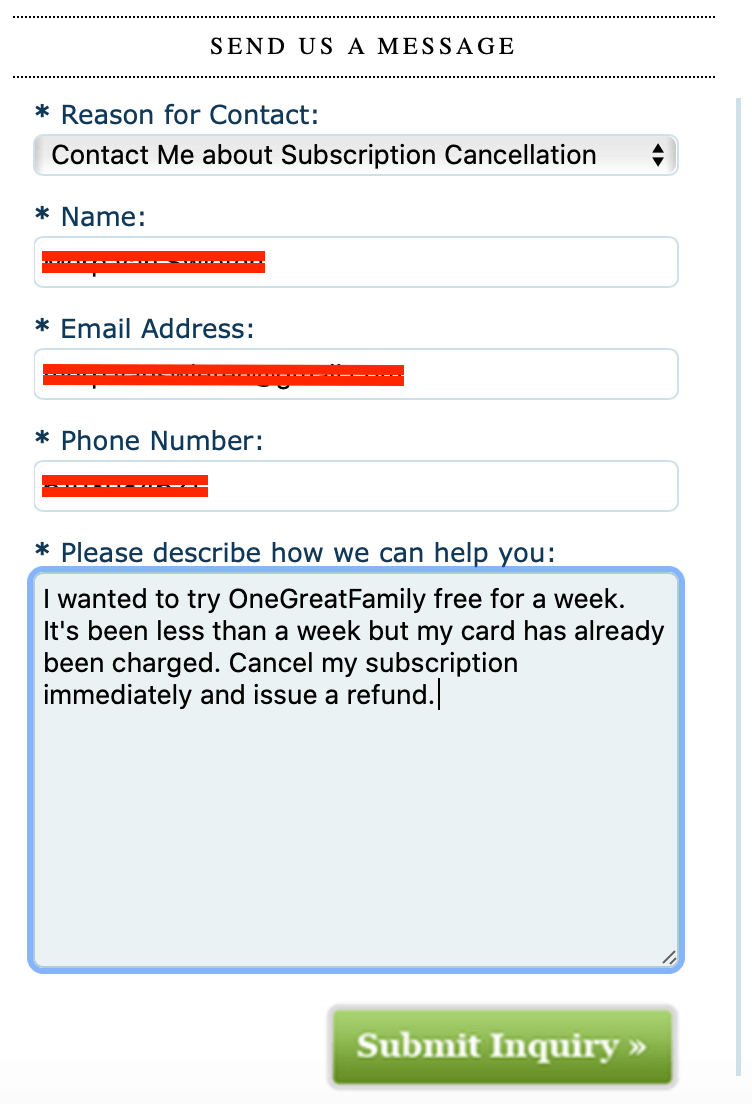 The website acknowledged this message as follows:

And then I got this email: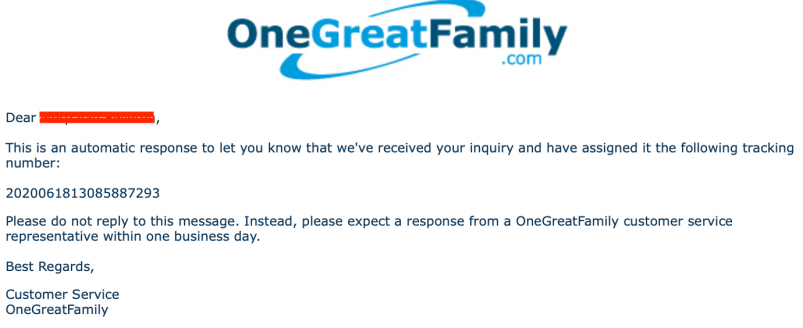 A day later I got another email: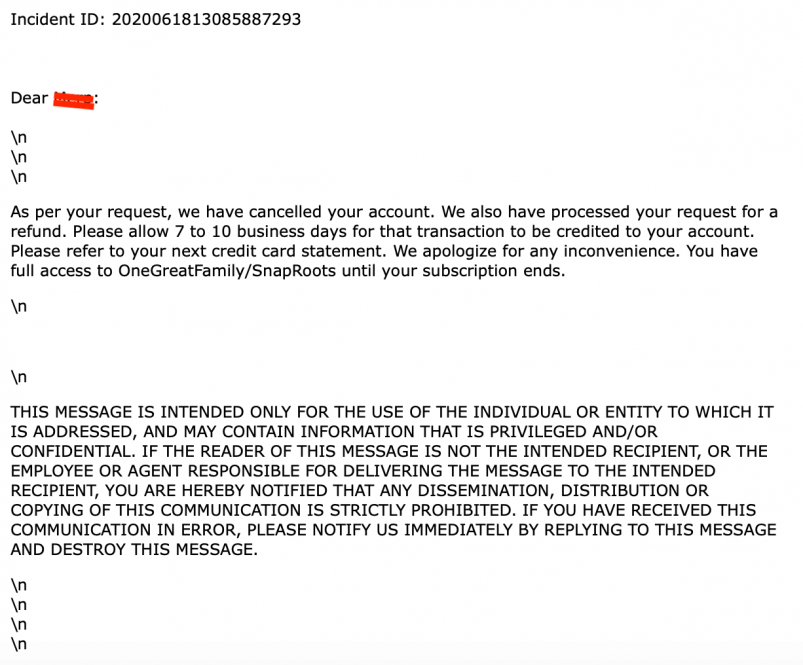 So, I should receive a refund in seven to ten business days.
But just the same, can I just say that OneGreatFamily's business practices are incredibly sleazy?
You should be able to just cancel your subscription at any time, without having to request cancellation. But more to the point, you shouldn't be billed immediately when there's supposed to be a one-week free trial.
"We apologize for any inconvenience." They sound very sorry for having tried to rip me off, don't they?
I Can't Recommend OneGreatFamily. At All.
I've tested and reviewed a lot of commercial DNA tests and family tree builders by now. Most of them have had some advantages and some disadvantages, but on the whole I've been at least partially satisfied with my experiences. Until now.
As I've said, OneGreatFamily is very affordable. And in theory, the company can help you turbo-boost your family tree – once it finds some of your relatives in its other customers' family trees.
But in my case, OneGreatFamily doesn't have any of my relatives in its existing family trees, so the company did literally nothing for me. And on top of that, it instantly billed me for an annual subscription the minute I signed up for a one-week "free trial."
So whereas I'm usually able to say "this vendor would be good for people who…" in my reviews, I really can't recommend OneGreatFamily to anybody. You might spend a little bit more, but I recommend using MyHeritage or Ancestry.com to build your family tree.
Frequently Asked Questions
Is this family tree builder free?
OneGreatFamily isn't free, although it's very inexpensive (14,95 US$) compared to other family tree builder subscription services I've seen, such as Ancestry.com (100,00 US$) and MyHeritage (0,00 US$).
OneGreatFamily does offer a one-week "free trial." But if you sign up, the company immediately bills you for a one-year subscription. Then you have to jump through hoops to get your money back.
What is the best family tree builder for multiple generations?
I've had good experiences with MyHeritage and AncestryDNA. Both of these companies have a huge number of individuals in their databases. With patience and dedication, you can find lots and lots of historical and living relatives, and grow your family tree very nicely, using either company – although the databases skew heavily toward families of European descent.
On paper, OneGreatFamily should also be a good tool for discovering multiple generations of your family. But OneGreatFamily hasn't found any of my relatives in its database. So I think it's basically a scam.
Can I find relatives via a family tree builder?
AncestryDNA and MyHeritage both offer a basic online family tree builder for free, but you can only add relatives you already know about. But if you subscribe to these companies' genealogy services, their algorithms will find relatives for you.
The company will spot a name and set of dates on your tree that seems to match someone in their database, and ask you to confirm that it's a match. Once you've established that this person is indeed your relative, you'll receive suggestions for additional people who seem to be related to that person according to its records. And so on and so on.
Over time, your tree grows and grows and grows in this manner.
And if you find living relatives who also have family trees on the same platform, you can get in touch with them (if they give you permission) and share your family trees with each other. That can allow you to find a huge number of new relatives in one fell swoop!
How often should I update my family tree?
How often you update your family tree depends on your level of interest. The more committed you are to finding lots of relatives, the more time you should plan to spend doing research through your family tree builder. It can be very time-consuming!
However, if your family tree has reached a stage where you're pretty happy with it, and don't feel a burning need to grow it any further, then you don't need to update it at all (or only when you're in the mood). You can just open it up every now and then at family gatherings, and show your cousins, aunts, and uncles all the cool discoveries you've made!