Update:
MightyDNA is no longer in business. However, there are still plenty of reputable genetic testing options available. For example,
LivingDNA is a great choice
for anyone looking to learn more about their genetic makeup and how it affects their health, diet, and more.
Is Your Lifestyle Optimized for Your Genes?

The scientific-sounding genetic variants called single nucleotide polymorphisms (SNPs) can be analyzed and interpreted to determine your unique health profile. This is what MightyDNA promises to do so that you can tailor your wellness habits to suit your DNA.
You can get insights into how to improve your diet, strengthen your fitness routine, and take great care of your skin. You can even find out more about your aptitude for learning and memory. Can MightyDNA make you physically and mentally mighty? Let's look at what this company has to offer.
Taking the Tests
MightyDNA offers a variety of direct-to-consumer DNA test kits, which we can group into Diet & Fitness and Health & Wellness categories. Although each kit tests different genes, the basic process of taking the test is the same across all kits:
Purchase the kit online and create a MightyDNA account
Collect your cheek swab sample and mail it back to MightyDNA
Receive your 20-page results report in your inbox!
When it arrives, you'll find that the test kit contains detailed instructions for how to collect a good sample, a collection swab and storage tube for your sample, and a prepaid shipping label. The main thing to remember is not to eat, drink, or chew gum for 30 minutes before collecting your saliva sample.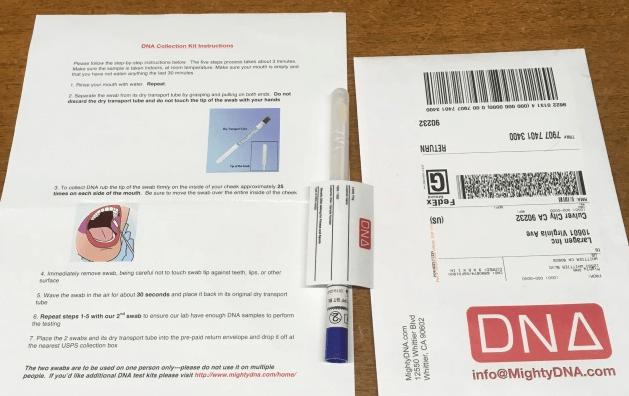 Since MightyDNA doesn't let you upload raw DNA data from a previous test with another provider, you'll have to take the company's proprietary test.
It's also worth noting that (unlike most competitors) MightyDNA doesn't use a CLIA-certified lab and (like most competitors) the tests are not FDA approved. This means that you shouldn't use the results for diagnosis – which you really never should – but you can use them as a guide for things to discuss with your medical practitioner, nutritionist, or fitness coach.
MightyDNA's Diet and Fitness Tests
MightyDNA's diet and fitness tests are sold in kits that test a panel of genes. These analyze gene variants associated with different muscle types, your ability to recover from exercise, your likelihood of becoming obese, and your risk for developing type 2 diabetes.
Personalized Exercise – Home Athletic Polygenic Kit for Health & Exercise
This fitness and sports kit is designed to help answer questions about your natural athletic inclinations, such as whether you're a natural powerlifter or a long-distance runner. Expect to see information about your cardiac output, oxygen capacity, muscle force, muscle efficiency, aerobic fitness, training response, strength building, inflammation, cellular health, and cell repair.
The results are dense: a 20-page report about just three genes, along with a few fun facts. This could be a very informative resource for someone who, like me, has a scientific background, but it could be too technical for others. For example, the fitness test focuses on three genes – ACTN3, ACE, and NFE2L2 – and you get to see this kind of picture of the chromosome for each gene: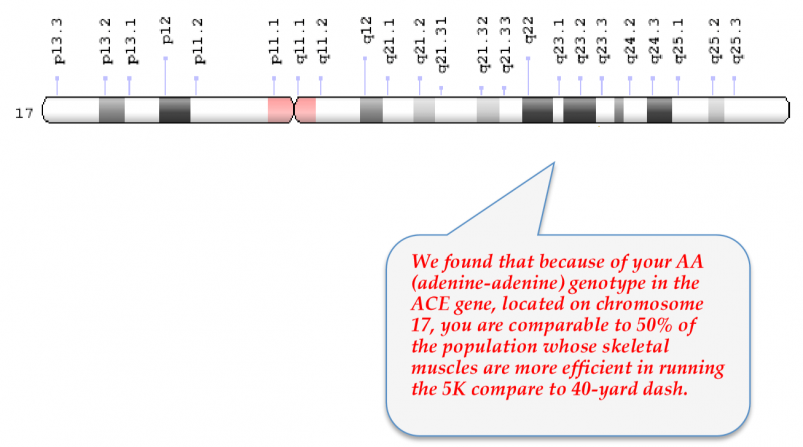 You also get an explanation of what each of the genes does to affect athletic performance.
DNA Diet Testing Kit – Weight Loss and Type 2 Diabetes, Adult Onset Diabetes
If you're wondering if your food habits are compatible with your genetic traits, the weight loss and diabetes kit could help you figure it out. This genetic profile will give you insights into how your genes may impact your metabolic rate, your ability to lose or gain weight, and your appetite.
This equally-scientific report offers unique insights to help you tailor your diet based on your DNA. It analyzes the FTO gene (which is involved in feeling full), the MC4R gene (which is associated with obesity), and the LEPR gene (which is linked to appetite). These genes are involved with the following physiological processes:
Age-related metabolism
Lipid metabolism
Fat processing ability
Feeling full (satiety)
Cholesterol and lipids
Weight regain
Food reward
Appetite
Obesity
Hunger
Accurate and Personalized Direct to Consumer DNA Test for Wheat Gluten Genes and Food Sensitivity
Do you find yourself feeling unwell after eating certain foods? Have you ever wondered if you have celiac disease or if you're lactose intolerant? If so, MightyDNA's food sensitivity test might help you narrow down the cause of your symptoms.
The report follows the same format as the other two, and it reports on these genes:
ALDH2 for alcohol tolerance
CYP1A2 for caffeine metabolism
HLA DQ8 and HLA DQ2.5 for celiac disease and gluten sensitivity
MCM6 for lactose intolerance
(Gene not listed) for cilantro aversion
MightyDNA's Diet & Fitness Standout Features
Gene selection is backed by credible scientific sources
In-depth explanations of genes, physiology, and how to interpret your results
Recommended lifestyle changes to best meet your genetic needs
Our Top Three Competitor Tests
If you're not up to reading through 20 pages of dense text to understand your results, there are plenty of other options for you. Here are three that we found:
Simple and Straightforward Pricing
MightyDNA has a simple pricing strategy. All test kits are available for the same (relatively low) one-time payment price, but the lower price means that the individual tests, results, and analysis are less robust than competitor companies.
For example, by paying a bit more money on a bundled report from Vitagene, you'll receive both a diet and an exercise report, plus supplement and ancestry reports. Your results won't look as technical, but many may find them easier to read and understand.
If you choose to go with one of MightyDNA's tests, you can pay via PayPal or any major credit card, and there are no unexpected add-ons or ongoing subscriptions. Shipping is included.
Hello? Hello? Is Anyone There?
Several of MightyDNA's test kit descriptions mention the ability to work with a virtual consultant via live chat. However, no other details are provided, and the public website appears to have no live chat feature.
When it comes to contacting this company, things don't get much better because the contact page contains only a contact form, which I filled out as follows: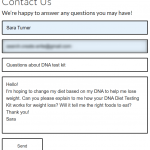 Since I received no reply within 36 hours, I submitted another question, and then another one 24 hours later. The only reply I ever received was a message to say, "Your message has been sent!" Not helpful.
Since MightyDNA seems to post regularly to its Facebook page, about ten days later, I sent a message and was pleasantly surprised to receive a prompt response, even though it only advised me to send an email to the provided email address. I did send the email, and this time received a reply: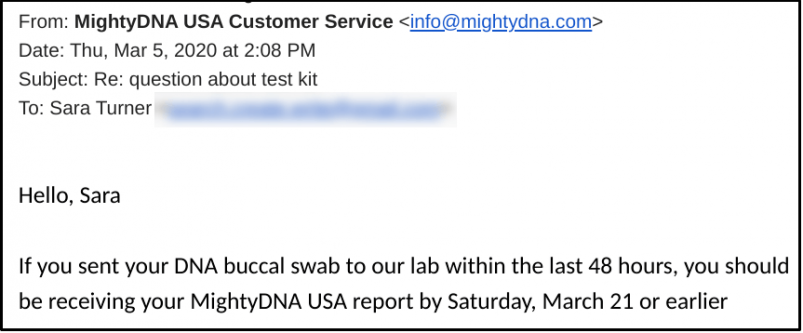 MightyDNA – You Might Have Better Options
MightyDNA's goal is to provide DNA-based health information to anyone wanting to improve their health, work on their wellness, decide on the best diet, or finesse their fitness. This company tests genes that have been determined by PhD scientists to have well-defined functional effects.
So far, so good, but MightyDNA is outshined by many of its competitors that provide better value for money, superior support, higher laboratory standards, analysis of a larger number of genes, and actionable insights.