STD Testing with No Doctor Required
Health Testing Centers has been around since the 1980s, and they now have over 3,000 labs throughout the US that offer private, accurate STD screening. They also offer a number of STD tests that you can take at home, with the same reliability and accuracy as you'd get from your doctor. Or so they say.
Can you really rely on your results? Does cutting out the doctor mean false negatives and positives? Are the tests easy to take? And what about follow-up support and treatment?
I've thoroughly reviewed and researched Health Testing Centers to get to the bottom of all those questions, and more. I looked at everything it has to offer, and I'll let you into a secret – it's a good choice. But there are a few small drawbacks you'll want to be aware of.
Get Started With Health Testing Centers Today!
Choose From 30+ STD Tests
If you like choice, then Health Testing Centers definitely has you covered. There are over 30 STD tests on the list, depending on whether you want a bundle, individual kit, or have a preferred collection method or testing location. Unfortunately, though, you can't buy male- or female-specific kits.
And how do you know whether the complete STD test kit or complete STD panel is best? It's confusing to say the least. So here's a quick roundup of all the tests on offer.
10 Test STD Panel
As you'd expect, this kit screens for 10 different STDs, including HIV, Herpes Type I and II, Chlamydia, Gonorrhea, Syphilis, and Hepatitis A, B, and C.
It's rare to see all hepatitis types in one test without buying them separately, so that's a huge advantage if you think you've been exposed.
Complete STD Panel
The Complete STD Panel checks for seven of the most common STDs in both men and women. These are: Chlamydia, Gonorrhea, Herpes Type II, HIV, Hepatitis C, Syphilis, and Trichomoniasis. You can't take this test at home, so you have to visit one of Health Testing Centers' nearby labs.
Complete STD Test Kit
If you want to take your test at home, the Complete STD Test kit is your second option. This screens for the same seven STDs as the Complete STD Panel, but you can collect your own urine and blood sample without visiting a lab. It's cheaper, too.
Total STD Test Kit
The Total STD Test Kit is the most comprehensive kit on this list. And that comes with an expensive price tag, too. And considering it's supposed to have everything in one, there are a few common STDs missing.
It doesn't screen for Hepatitis B and C, or Herpes Type I, so you might have to purchase individual add-ons to get what you need.
This kit screens for HIV, Herpes Type II, Hepatitis C, Syphilis, Chlamydia, Gonorrhea, Trichomoniasis, and high-risk HPV (specifically types 16 and 18). As well as seeing whether you have an HPV infection, the test tells you which type so you can see whether you're at high risk of developing cancer.
Chlamydia, Gonorrhea & Trichomoniasis Test Kit
This test is quite straightforward. It screens for the triple-threat STDs, which include Chlamydia, Gonorrhea, and Trichomoniasis. You need to visit a lab to provide a urine sample, so you can't test yourself at home.
You can also drop Trichomoniasis, and just purchase the Chlamydia & Gonorrhea Test Kit instead. It can detect either of these STDs within 1 to 5 days of exposure, so you don't need to wait for the incubation period to be over.
Hepatitis
Health Testing Centers has multiple Hepatitis kits available. You can buy individual kits for Hepatitis A, B, and C, as well as a Hepatitis C quantitative real-time PCR test. This last kit is specifically for people who know they're Hepatitis positive, and want to take a test to monitor the effectiveness of treatment.
HIV
As well as a standard HIV detection test, Health Testing Centers also offers an early detection kit. This can detect HIV in your bloodstream as soon as 28 days after exposure, rather than the usual 3-month waiting period.
And More Individual Kits…
You can buy every STD included in the bundle kits as an individual test, too. That includes Chlamydia, Gonorrhea, Syphilis, and even the HPV risk screening. Some STDs kits have two options, as you can buy them as an at-home test or one that you take in a walk-in lab center.
SHOP HEALTH TESTING CENTERS STD KITS!
Taking Your Test at Home
If you picked a test that can be shipped to your home (there are 15 available), then it's sent to your address in 5-7 business days. It comes in plain packaging so no one knows what you've ordered, which is great for privacy. Although 5-7 business days is quite a long time to wait.
Shipping is free of charge to your address. You also get a pre-paid envelope with your kit, so it's free to return, too.
Your kit comes with detailed instructions and sample collection tubes or swabs. The instructions are clear and easy to follow, so you shouldn't run into any issues. Since you can pick tests based on the collection method, you should already be aware of what sample you need to provide.
The collection methods can be different for men and women, if you chose a bundle for example. But kits aren't male- or female-specific, so make sure you read the instructions fully first. I don't think it's too confusing, but it'd be nice if they just sent you the swabs or tubes needed rather than making you figure it out.
The kit also explains any pre-test requirements you should follow, such as ensuring you don't urinate within 30 minutes of taking your sample. Make sure you read these beforehand, otherwise your sample might not yield an accurate result.
Taking Your Test in the Lab
The in-lab testing option is a bit easier than at-home kits. Once you've ordered your test, you simply need to locate your nearest lab with the Lab Locator feature. Type in your zip code and it shows you centers nearby.
You don't even need to book an appointment to take your test. It can help reduce waiting times, though. If you want to, just schedule an appointment online. Either way, you can still take your test on the same day you ordered it.
You also need to print the lab requisition to take with you, which is basically your test receipt. This is only valid for 30 days. You're charged a $15 fee for a new one, so make sure you take your test before time runs out.
Upon arrival, a physician will take you to a private testing room and collect the required samples. You won't need to wait long either – most people are usually in and out within 20 minutes.
There's no extra paperwork to fill in and you don't need to announce to anyone why you're there. All you need to do is provide your sample and then go home and wait for your results.
Health Testing Centers has thousands of labs, so it should be easy to locate one close to your home. Sometimes the directions can be confusing though, and they often send you to the wrong place. Leave yourself plenty of time in case you get lost!
Book Your STD Test With Health Testing Centers Today!
5 Standout Features of Health Testing Centers
Find the Test that Suits You Best
Health Testing Centers has one of the biggest lineups of STD kits that I've ever seen. In fact, there are over 30 for you to choose from. You can buy every STD as an individual kit, which is perfect if you don't want to waste your money on screening for infections you don't care about.
It also offers multiple bundle options, which are obviously more expensive than individual kits, but they test for many different STDs at once. This includes a bundle that screens for all types of hepatitis. It's actually probably one of the best choices for hepatitis screening, as most services only let you test for hepatitis C.
You can also find bundles that include HPV risk screening. And, best of all, you can choose tests based on your preferred collection method, whether that's a urine sample or genital swab.
Choose Your Location
Health Testing Centers lets you choose where you take your test. That is, you can either visit one of their testing labs, or you can take the test in the comfort of your own home.
Most (not all) of the STD tests are available for home purchase, so they're delivered straight to your door. You can take the test yourself at home, post it back, and simply wait for your results. And with discreet packaging, no one has any idea that you're taking an STD test. So it's completely private.
You can also choose to take your test in one of Health Testing Centers' labs. They have over 3,000 labs throughout the US, so it's easy to locate one nearby.
It's not as private as testing in your home, but you don't have to fill in any more paperwork or answer any probing questions. In fact, no one even knows what you're being tested for. Just provide your sample and you're done.
Test on the Same Day
If you choose the in-lab testing option, you can get tested on the very same day you buy the kit. All you need to do is choose your kit, walk into a nearby lab, and get tested.
You won't find many services that offer same-day testing, so it's ideal if you're really concerned or can't stand the thought of waiting around. You can even get your results the next day, so from sample to results, it can take as little as 24 hours.
The at-home option takes 5-7 business days to arrive in the post, then you have to wait for your sample to arrive back in the lab before it's reviewed and you get your results. It's more discreet, but it depends where you're willing to wait.
CLIA-Certified Labs
Health Testing Centers' labs offer the same level of accuracy as the labs your doctor would use. They're CLIA-certified and HIPAA-compliant, so you know you can rely on your results. Every lab also includes doctor's oversight, which means your results are reviewed by qualified physicians.
Not only do these certifications mean you can rely on your results, but it also means that Health Testing Centers has passed all security, confidentiality, and privacy requirements. And that means you and your results stay anonymous.
It's always worth remembering that you can get false negatives, especially if you test before the incubation period is over. No test is 100% accurate, but Health Testing Centers is really close.
Free Physician Advice
If you test positive for an STD, you get access to a free phone call with a physician who talks you through your results and what your next steps are. Even if you just need someone to talk to, the physician is there to listen to your concerns. They call you unprompted, so you don't need to do anything.
At their discretion, they can even give you a prescription for free, so all you need to do is take it to your pharmacy to get your treatment. Of course, you still need to pay for your own medication. It saves you printing out your results and taking them to your doctor to get your prescription, though.
GET YOUR HEALTH TESTING CENTERS STD TEST!
Read Between the Lines
How long you wait for your results depends on whether you take your test at home or in the lab. Typically, lab tests can turn around results in 24 hours. But it can take a few days. The turnaround is much quicker, though, because you don't need to post anything to the lab.
Health Testing Centers usually sends you your at-home test results within 2-3 days from your sample arriving in the lab. For the Complete STD Panel, I actually found out that you could be waiting as long as 5-7 business days, so make sure you factor in how quickly you need your results when purchasing your test.
You can use the online form to track the status of your results if you've not heard anything. Fill in your details and which lab you took the test in, and they'll get back to you. This service isn't available for at-home tests, unfortunately, so it's more of a guessing game as to where your test is up to.
You get an email to tell you when your results are ready. Simply log on to your online dashboard, and you can download your PDF results from there.
Your results aren't the easiest to understand and there's a lot of extra technical information. It'd be easier if it simply just listed the STDs tested and your result, rather than all the unnecessary info.
Sometimes your results are reported as non-reactive or reactive, or detected and non-detected, rather than positive or negative, so watch out for that, too. It's easy to get confused and not know what your results are!
Your results aren't part of your permanent medical record, which is good news. They aren't shared with anyone else, at all. You can download and print them yourself to share with your doctor, but that's at your discretion.
If you test positive for an STD, a physician will call you within 4-24 hours. Well, so the website says. When I got in touch with live chat, they actually told me it's more like 24-48 hours. It's not the first time I've seen Health Testing Centers overpromising something (time to results, too), but at least you still get a phone call for free.
You don't get the free physician phone call with every positive result. It's only available if you test positive for Chlamydia, Gonorrhea, Trichomoniasis, or Herpes Type II. For any other STDs, you're on your own. You could look at EverlyWell instead if you want guaranteed follow-up support.
Save Money by Changing Your Location
Health Testing Centers has various different pricing options depending on whether you choose an individual test or bundle, and where you decide to get tested. It's more expensive to do the in-lab option, but only by around $10 or so.
Individual tests start quite cheap, around the $50 mark, including those for hepatitis. They typically range from $50 to $80, so they're very reasonably priced and much cheaper than going to the doctors yourself.
Things get more expensive when it comes to the bundle kits, as expected. They're still quite budget-friendly, though, especially considering it's only around $200 for a 10-panel test. Although the 7-panel test is only $10 cheaper, which I think is overpriced in comparison. So you'd be better getting the full works for the best value for money.
You end up paying $100 more if you choose a LabCorp rather than Quest testing center for the bundle kits. I wouldn't say that's good value for money. For around the same price, you could get the Total Box from MyLabBox that screens for 14 STDs rather than 10 and comes with all the added extras.
Unfortunately, there are no subscription options with Health Testing Centers, which is usually a good way to save money. And you will incur extra costs if you don't take your test within 30 days of receiving your requisition. Other than that, there are no hidden surprises.
While you can use HSA and FSA cards, Health Testing Centers doesn't accept insurance. One thing it does offer, though, is refunds.
If you change your mind, even after you've collected your sample, you can get a refund minus $25 for kit costs and shipping. For in-lab tests, you can get a full refund within 21 days as long as you haven't visited the lab. You can still get your money back after 21 days, but you need to pay $10 for processing.
SHOP HEALTH TESTING CENTERS STD KITS!
We'll Get Back To You
Health Testing Centers has a few different support channels, including a phone and text line, live chat service, and an email address. There's also an online form you can use to track the status of your results.
I tested the live chat feature several times and while I did get a response, it was anything but 'live'. I was told to leave a message and someone would respond to me. The first two times, I received a response within less than 24 hours with all the information I needed. I'm yet to receive a response to my third inquiry that I submitted over four days ago.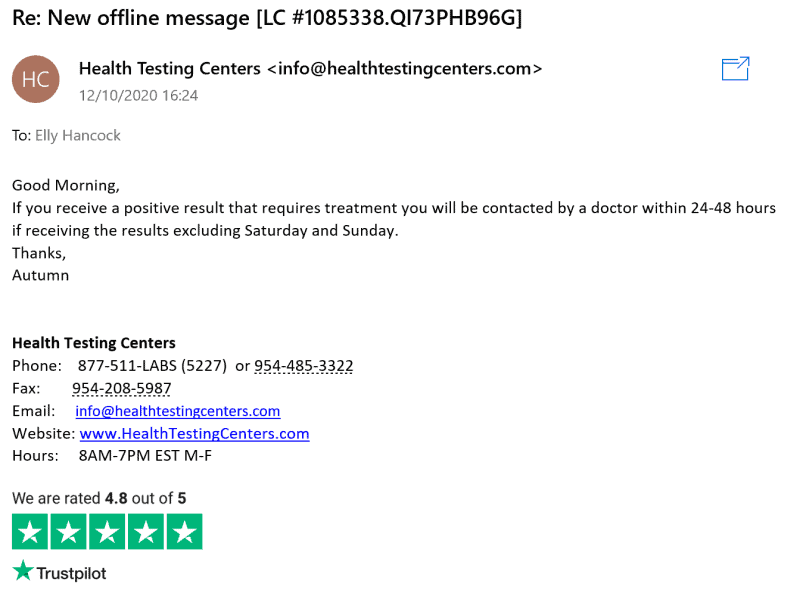 The live chat and phone line are only available between 8am and 7pm EST. Even when I tried the live chat during these times, I wasn't able to speak to anyone there and then. I always had to fill in a form and wait for an email response.
Unfortunately, there's no after-hours message service, but you can leave a voicemail on the machine. These are responded to the next morning, as well as any chat requests or emails.
You can also visit the FAQs area of the site for answers to many common questions, such as whether they accept insurance, how long results take, where you go for testing, and more.
Reliable and Easy, But Room For Improvement
Health Testing Centers is a reliable option if you need accurate STD testing without the embarrassment. It has plenty of kits available, and you can choose whether you take your test at-home for complete privacy or discreetly in one of their lab centers.
Its individual kits are very well priced. And the bundle options aren't bad either, unless you choose a LabCorp location where costs creep up considerably. I think it over promises in some areas, too, especially results turnaround times and support.
Overall, though, Health Testing Centers offers budget-friendly, easy STD screening. It removes the middle man and saves you the embarrassing trip to the doctor's, so you can take control of your own sexual health. And if that's your top concern, what more could you want?
Book Your Health Testing Centers STD Kit Today!
FAQs
Does Health Testing Centers accept insurance?
No. You can't claim through your insurance for a Health Testing Centers STD Test. It does accept HSA and FSA cards though, as well as plenty of other common payment methods, including PayPal.
How do I find a nearby Health Testing Centers lab?
Use the Lab Locator feature on the website. Simply type in your zip code and it shows you the closest LabCorp and Quest labs to your location. You don't need to book an appointment to visit a lab and take your test, but you can if you want to. It might help reduce your wait time.
How accurate are Health Testing Centers results?
Health Testing Centers' results are as accurate as you can get. Of course, no test can promise 100% accuracy. But Health Testing Centers' labs are CLIA-certified and HIPAA-compliant, which means they offer the same level of scrutiny and accuracy as the labs your doctor uses. In fact, they might even be the same lab.
Remember, you can get false negatives and positives, especially with STDs tests. False negatives are more common, though, because most STDs have an incubation period where they won't be detected in your blood. It can range from a couple of days to many months, so be sure to check this out when deciding when to take your test.
Does Health Testing Centers charge any additional fees?
No. There are no additional fees for shipping, processing, or anything else. The price you see for the test is the price you pay. The cost even covers the follow-up support you get after you test positive.
The only time you might incur an additional charge is if you choose the in-lab option and don't take the test within 30 days of your lab requisition being generated. You're charged another $15 for a new one.
Who has access to my Health Testing Centers STD test results?
Only you and your ordering physician can view your results. You can access your results from the secure online dashboard and download them yourself to take to your doctor, but Health Testing Centers doesn't do this for you.
Your results do not go on your permanent medical record either, so they're for your eyes only.