Serious Science with Some Fun Twists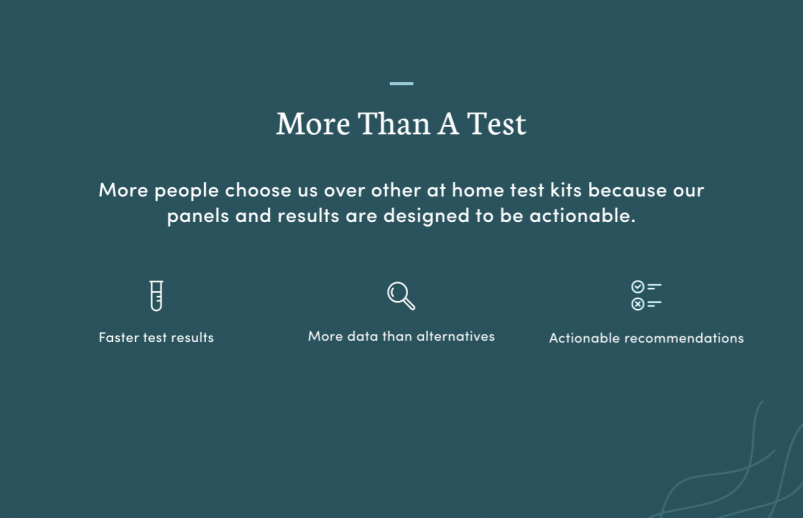 Dynamic DNA Laboratories (or simply Dynamic DNA Labs) offers a good variety of genetic tests for ancestry, health, fitness, and even your likely responses to common medications. This company provides serious scientific testing. That being said, it does also offer some "just for fun" products such as DNA Artwork, which colorfully displays your unique DNA.
Since Dynamic DNA's tests are so expensive, I set out to answer two key questions:
Are the tests accurate?
Are they worth the cost?
Join me on my tour of Dynamic DNA Laboratories' tests to see if I can uncover these answers.
Taking the Test(s)
After placing your order, your test kit should arrive in three to five business days. This collection kit requires you simply to swab the inside of your cheek and then send in your sample using the prepaid mailer.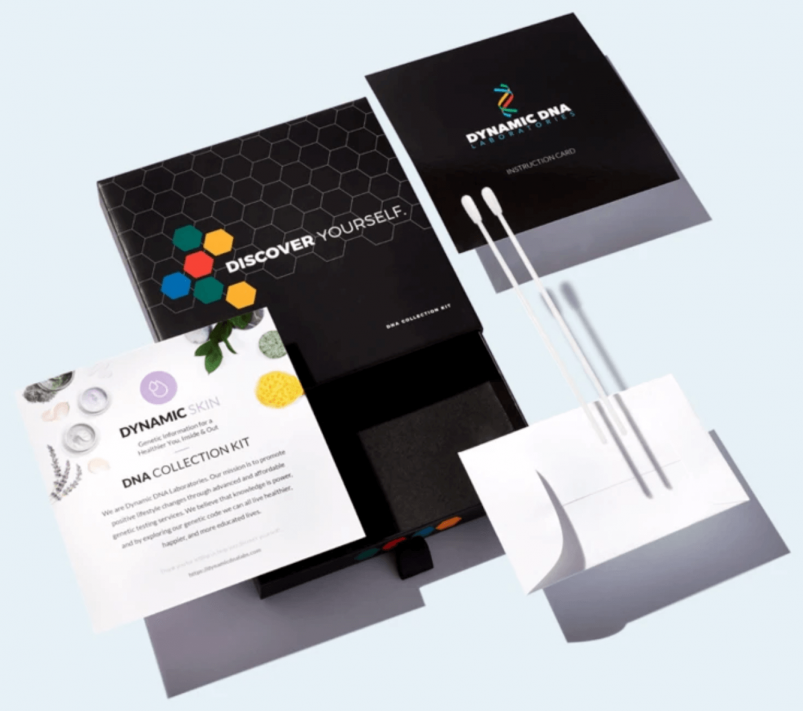 After analysis in the state-of-the-art, CAP/CLIA accredited laboratory, your results should be available to read online in less than three weeks.
A Detailed Look at Dynamic DNA's Ancestry Tests
Dynamic DNA Labs offers three types of family and ancestry tests: two that prove paternity or kinship, and one that's more similar to the ancestry tests offered by the likes of MyHeritage DNA and AncestryDNA.
Paternity DNA Test

This paternity test can determine if a child and father are genetically related to one another. Biological parents share certain genetic markers with their children, and this test looks to see if those genetic markers are present in both the father and the child. For this test, both parties have to submit a sample.
Features:
Easy-to-understand results
HIPAA-compliant online patient portal for confidentiality
Online tests are not admissible in court (but court-admissible tests are also available)
More expensive than many paternity testing centers
Results within two weeks
Siblingship DNA Test

Similar to paternity testing, this test looks at a broad range of genes to determine if two people are siblings or have some other close family relationship (e.g., grandparents, aunts or uncles, cousins). While the test can determine if there is a familial relationship, it will not be able to state the exact relationship. You will need to discern that based on things like age and historical records. Again, both parties have to submit a sample.
Features:
Easy-to-understand results
Tests hundreds of thousands of familial markers
Can determine brother/sister, aunt/uncle, cousin, and grandparent relationships
More expensive than many sibling testing centers
Results within two weeks
Ancestry DNA Test

Ancestry tests are not Dynamic DNA Labs's primary focus, but its results are accurate and detailed.
This ancestry test includes the three main types of DNA heritage testing in one package: autosomal, Y-DNA (biological males only), and mtDNA. By doing this, Dynamic DNA Labs can determine your ethnic breakdown as well as your paternal (father's side) and maternal (mother's side) ancient migratory paths. This puts it ahead of some competitors that only test autosomal DNA.
Features:
Test includes maternal and paternal haplogroups
Cheaper price than many other labs offering the same service
Viewable via an online dashboard
Shows migratory patterns of ancient ancestors
Outlines full ethnic makeup
Results within three weeks
Similar Tests to Consider
If you're just looking for a quick paternity test, HomeDNA offers a product for a similar cost, once you factor in the separate lab fee. Plus, this test is available at common retail shops like Walmart or Walgreens.
If you're more interested in researching your ancient paternal or maternal heritage, some companies such as FamilyTreeDNA offer Y-DNA and mtDNA tests separately. Others, such as Living DNA, also do this kind of combined ancestry test (and at lower cost) to give a much more complete picture of overall heritage.
You won't find genealogical services with Dynamic DNA Labs. So if you'd like help building a family tree or contacting potential relatives, you'll have to look to MyHeritage DNA or AncestryDNA instead.
Somewhat Expensive Compared to Competitors
Except for the ancestry test, almost all of Dynamic DNA Labs' tests are more expensive than similar services from competitors. So, if you're trying to save money, you'd be better off looking elsewhere.
Dynamic DNA Labs' tests run between a hundred and a couple hundred dollars, but the value really depends on the level of information you want. For example, a test could easily pay for itself if it helps you avoid taking a particular medication that could cause problems down the line. But, if you are just looking for top-line information regarding your health and fitness, you might want to consider a competitor with an all-encompassing test, like Vitagene.
Although Dynamic DNA Lab's ancestry test includes Y-DNA (for men) and mtDNA analysis – which not all competitors do – some competitors, such as Living DNA, also provide this at a lower price. Others, like Vitagene, include an ancestry profile in addition to a larger diet and fitness report.
One thing that Dynamic DNA definitely has in its favor is that its tests could be covered by your health insurance.
Relatively Quick Support Response by Email
You can contact Dynamic DNA Labs by email or telephone, or visit them in person if you just happen to be passing through Missouri.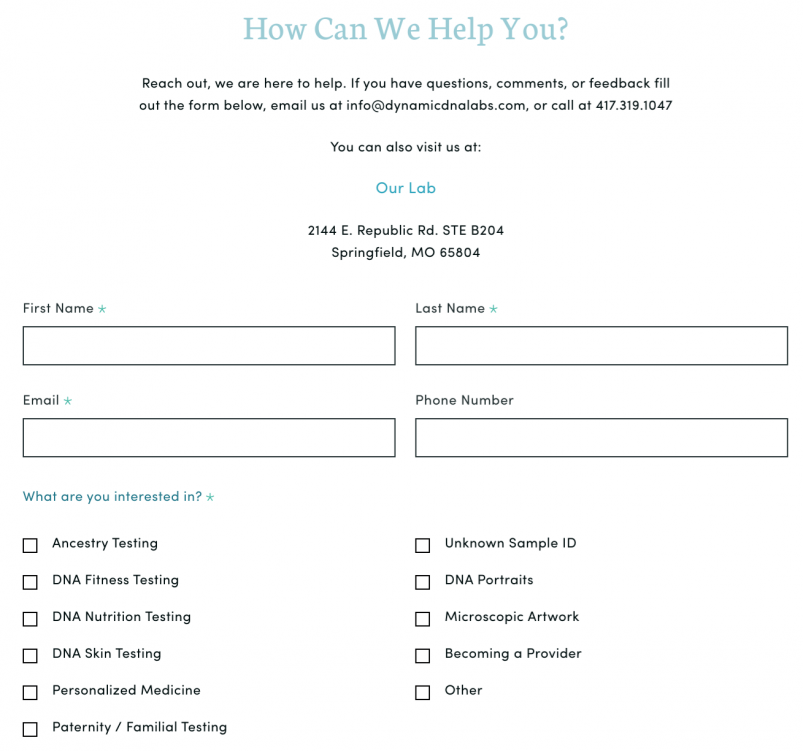 I sent in an email asking if the "DNA Art" was custom to individuals or just generic images of DNA. While it did take two days to get a response, I had sent the original email on a Saturday. Not only did the CEO and founder himself respond to my email, but I learned that the artwork is actually 100% custom to you, which is pretty cool and probably worth making a little clearer on the website.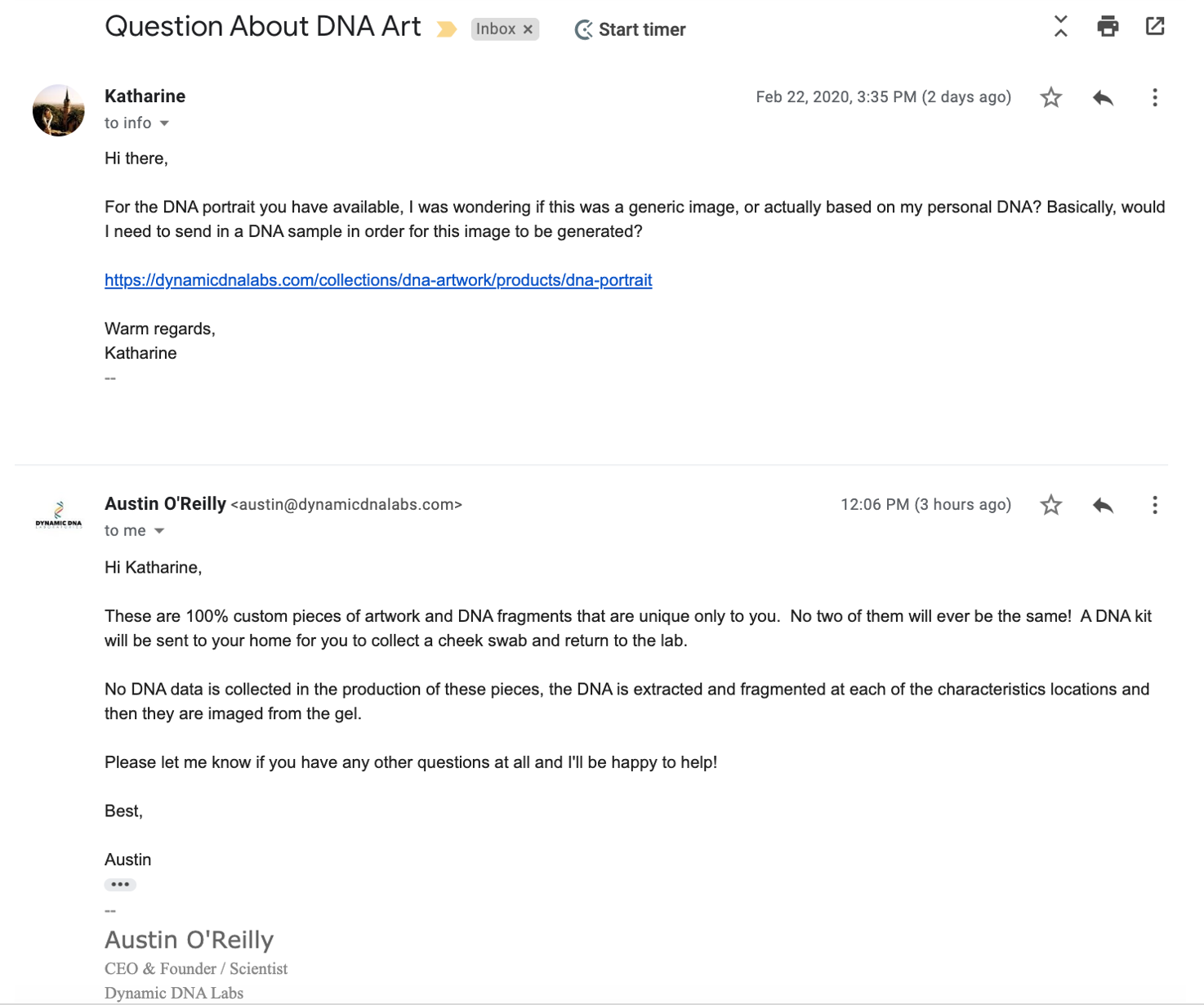 The next day I also connected with a kind and helpful agent by telephone. The friendly representative was knowledgeable and able to answer my questions regarding the certifications of the in-house lab.
Serious Science and Some Fun Too!
Dynamic DNA Labs certainly seems to have all the right DNA testing credentials, not least its own accredited labs. And it offers some relatively unique tests in the area of pharmacogenetics.
It's just a pity its separate tests cost so much compared with some competitors' all-inclusive tests. However, in some cases the tests are much more detailed and – depending on what information you are looking for – could very well be worth the additional cost.
I did suggest at the outset that this serious scientific company also has a fun side. Its DNA Artwork includes a DNA Portrait that shows what your (or your cat or dog's) unique sequenced DNA looks like in color. This does require you to send in a cheek swab, but surely a DNA styled coffee mug or mouse pad could make a great present or be a good conversation starter!